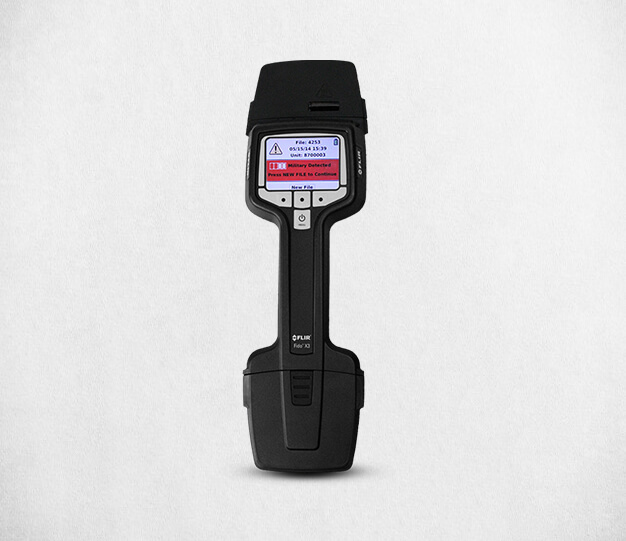 Fido X3
The FLIR Fido X3 explosives trace detector (ETD) expedites on-site decision making with ten-second threat reporting via intuitive, go/no-go alarms. Its rugged magnesium case and splash-proof seal meet rigorous MIL-STD-810G and IP54 specifications. Fido X3 starts from cold in five minutes, contains a long-lasting, eight-hour battery, and clears down in seconds. With thousands of units fielded in over 40 countries, Fido X3 is a trusted handheld explosives trace detector for critical security applications.
Tough and Dependable Explosives Trace Detection
BEST-IN-CLASS SPEED AND SENSITIVITY : FLIR's patented TrueTrace technology detects extremely low levels of explosives on surfaces (particulate) and in bottles (vapor) within ten seconds
EXPEDITED DECISION-MAKING : Initial training takes 30 minutes, minimizing impact on day-to-day operations. Features fast five-minute start-up, color-coded alarms, and on-device video tutorials.
BUILT TO SURVIVE HARSH ENVIRONMENTS : Rugged construction meets rigorous MIL-STD-810G and IP54 specifications. Drop-tested to 1-meter. No radioactive ionization source and clears down within seconds.
SPECIFICATIONS
SYSTEM OVERVIEW
Technology
FLIR TrueTrace™; Multi-Channel Fluorescence Technology; No Radioactive Source
Description
Handheld Explosive Detector
Data Storage
3,500 hours of continuous data logging
User Levels
Operator and Administrator
Certifications
ASTM E2520-15, CE, EC Directives, CB, UL, EMI/EMC & ISO
ENVIRONMENTAL
Operating Humidity
5% to 95% non-condensing
Temperature
-10 to 55 °C
PHYSICAL FEATURES
Dimensions (L x W x H)
14.5 x 4.5 x 2.8 in (37.0 x 11.5 x 7.0 cm) - with battery
Weight
3.0 lbs (1.4 kg)
Enclosure & Protection
Molded magnesium and polymer composite casing with anti-corrosive coating
POWER
Battery Specs
Two rechargeable Li-ion batteries (swappable and up to 8-hr battery life); adapter included
Input Voltage
100-240 VAC (wall adapter supplied)
Start Up Time
< 5 minutes from cold; < 10 seconds from sleep
SAMPLING & ANALYSIS
Sample Introduction
Direct vapor for bottled liquids or sampling swipes for surfaces
Sample Phase
Vapor and trace particulate
Threats
Detects military, conventional, homemade, and liquid explosives
SYSTEM INTERFACE
Communication
USB; optional embedded wireless; Windows®-based software
Localization
Language translation available worldwide
Display and Alerts
Visible, audible, and haptic(vibration) alerts; vivid, sunlight-readable color display (32k colors)